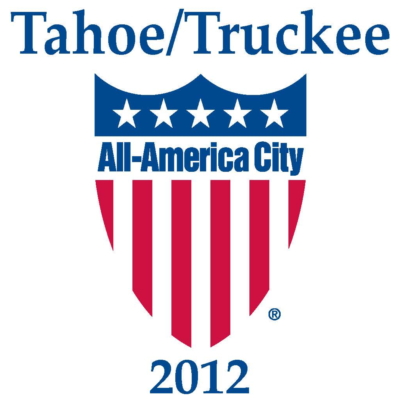 TAHOE TRUCKEE IS NAMED A 2012 ALL-AMERICA CITY
BASED ON PLAN TOIMPROVE THIRD GRADE READING
Region becomes charter member of national network dedicated to increasing
the number of low-income students reading on grade level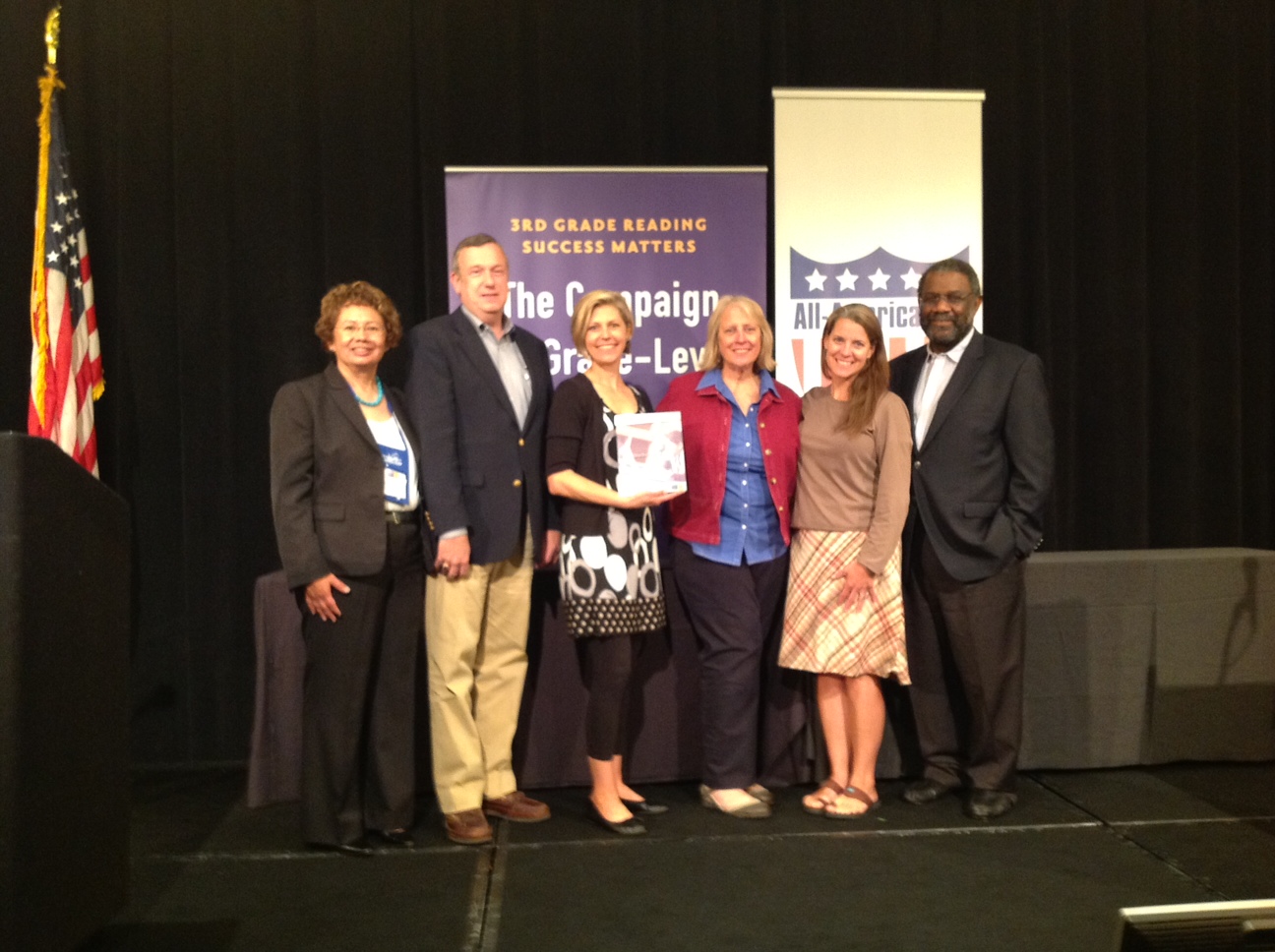 In the photo :Gloria Rubio-Cortes, President of the National Civic League
Dr. Robert Leri, TTUSD Superintendent
Laura Abbey-Brown, Excellence in Education
Ruth Hall, TTUSD Early Learning Coordinator
Heidi Bushway-Verkler, TTUSD Teacher
Dr. Ralph Smith, Managing Director of the National Campaign for Grade Level Reading
DENVER–The Tahoe Truckee region was named an All-America City by the National Civic League today based on its ambitious plan to ensure that more children are reading at grade level by the end of third grade.
Chosen from a field of more than 100 entries, Tahoe Truckee's plan was submitted by a community coalition that included the Excellence in Education Foundation, Tahoe Truckee Community Foundation, Community Collaborative of Tahoe Truckee, Tahoe Truckee Unified School District, Placer County Health and Human Services and First 5 Nevada County. The community was one of 14 awardees selected from 32 finalists.
"We are honored that Tahoe Truckee has been selected as a recipient of this prestigious award," said Truckee Mayor Joan Jones. "Truckee has a history of supporting education and we are excited about the prospects of how the Tahoe Truckee Reads program can strengthen not only our education system but also our community."
Beyond the award contest, Tahoe Truckee's plan makes the region a charter member in the Campaign for Grade-Level Reading Communities Network, a national movement of local and state leaders, nonprofits, and foundations putting a stake in the ground on third-grade reading. That milestone marks the point when children shift from learning to read and begin reading to learn. Students who haven't mastered reading by then are more likely to get stuck in a cycle of academic failure, drop out of school, and struggle throughout their lives.
The awards are given each year by the National Civic League for outstanding civic accomplishments. Ordinarily, applicants choose their own local projects to showcase, but this year NCL is teaming with the Campaign to encourage community-based partnerships to improve reading proficiency among young students.
"This partnership with the Campaign has been an amazing experience for our All-America City Awards," said Gloria Rubio-Cortes, president of the National Civic League which has sponsored the award for more than 60 years. "We were overwhelmed by the quality, passion and thoughtfulness of all the action plans submitted by more than 100 cities, towns and regions. There is a real and deep commitment to ensuring that our children are prepared to succeed."
The 124 cities and counties in the network, representing 350 school districts with 8 million students, are adopting a collective impact strategy, engaging the full community around the goal of supporting low-income children from birth through third grade.
The Tahoe Truckee Reads Campaign's comprehensive strategy to boost third-grade reading is focused on reading proficiency, school readiness and attendance, summer reading, public awareness and increased coordination and system change to better assess and track data in each of the target areas. The region aims to have at least 75 percent of students who read below grade level participate in summer reading programs, and to ultimately increase the percentage of grade-level readers from 53 percent to 80 percent.
As a charter member of the Grade-Level Reading Community Network, the Tahoe Truckee region will have access to a Promising Practices Clearinghouse, an online help desk, peer-learning opportunities, meetings with national experts and policymakers and a foundation registry designed to expand and replicate successful programs.
"I am truly impressed with this important community effort to address grade level reading," said Dr. Robert Leri, Tahoe Truckee Unified School District Superintendent. "As a relative newcomer to our school district, I am amazed, excited and energized with the collaborative and inclusive work to develop such an outstanding effort that will truly make a difference in our students' futures. I am proud that we have been recognized as an award recipient and that our plan can help serve as a model for other communities as well."
###
The Campaign for Grade-Level Reading is a collaborative effort by dozens of funders across the nation to: close the gap in reading achievement that separates many low-income students from their peers; raise the bar for reading proficiency so that all students are assessed by world-class standards; and ensure that all children, including and especially children from low-income families, have an equitable opportunity to meet those higher standards. For more information, visit www.gradelevelreading.net or contact Phyllis Jordan at pjordan@thehatchergroup.com or 301-656-0348.
###
The National Civic League is a 117-year-old nonpartisan, nonprofit organization that strengthens democracy by increasing the capacity of groups and individuals to participate in and build healthy and prosperous communities. In addition to giving the All-America City Awards, NCL publishes the Model City Charter and the National Civic Review. www.ncl.org; www.allamericacityaward.com.
###
All-America City Award sponsors include: The Piton Foundation; Southwest Airlines-Official Airline of the All-America City Awards; PCL Construction; Mile High United Way; Greenberg Traurig ; US Bank; El Pomar Foundation; JP Morgan Chase; City of Lakewood; City of Aurora; Comcast; FirstBank; Ready Foods; Rose Community Foundation; Western Union; and Denver Health.